Twin Peaks, California U.S.A 92391
San Bernardino County Mountains 5,715ft

A Worldwide Weather Network Site.

APRS / NOAA / CWOP STATION ID'S AR725 - WA6TJQ
WEATHER UNDERGROUND STATION - KCATWINP3
IN THE NEWS
DO YOU KNOW THIS GUY?

CLICK HERE FOR MORE INFORMATION

Current Weather Conditions In Twin Peaks

Refresh

This Page For Latest Weather Report.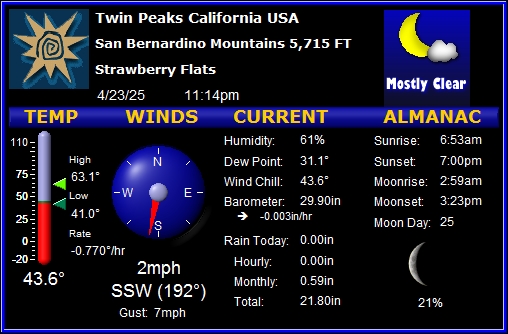 Weather Radar Image Twin Peaks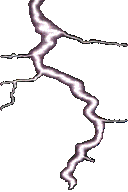 Lightning Strike Locator For Our Area

Twin Peaks, California Webcam Views
San Bernardino County Mountains Elevation 5715 ft
Mountain Cabin Cams & Silverwood Lake / Mojave Desert Cams
| | |
| --- | --- |
| Twin Peaks Mountain Cabin | Silverwood Lake & Mojave Desert |
FOR UPDATED WEBCAM VIEWS

CLICK THE IMAGES ABOVE

Twin Peaks, California Live Streaming Webcam
Live Realtime Video From Twin Peaks, California
FOR LIVE VIEW CLICK HERE

PLEASE USE THE FOLLOWING CAMERA LOGIN INFO.

Your User Name is....twinpeaks


Your Password is....wxman


Please note...The streaming webcam may be off at times, as our Frontier internet connection has been going on and off for the past month. I will try to check the connection daily and reboot the camera and internet when needed.
(Caltrans) HWY 18 / 189 WEBCAM